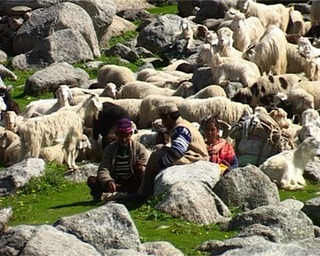 The Himachal Shepherds. A Time of Change.
A film about the Himachal shepherds that follows an annual migration of one family through the most inaccessible parts of the Indian Himalayas. 
For hundreds of years Gaddhi shepherds have lived a semi-nomadic/transhumant life in the Indian Himalayas. This is the story of the journey of one family that reveals their unique and often harsh way of life. We follow a shepherd, now in his seventies, and his son throughout the traditional migration, starting in the Spring when they move the herds of sheep and goats higher to escape the heat and to find grazing. The film shows their journey over the high passes and through the mountains to the Summer pastures of the inner Himalayas. En route, they visit their second home in a high valley and attend a festival at a holy lake. The brief time spent in the high pastures will be shown as well as his return to the lower hills after the monsoons in the Autumn. The film will also explore the life of members of his family who stay behind in the village to farm and educate their children during this journey.

If you would like to help fund this film . Please contact Robb